Resources for Practitioners and Families Affected by COVID-19
Emotional responses in infants and young children facing the uncertainty surrounding COVID-19 and how to help them
The Australian Association for Infant Mental Health recognises the distress, strength and courage of families with infants, toddlers and young children affected by the current global COVID-19 pandemic. Today, 30th April, 2020, the crisis is not over and many are facing continued uncertainty and anxiety. The families of medical and healthcare workers, families who have lost family members, have been or currently are unwell, lost their job or income, have recent experience of bushfires, alongside families currently in social isolation, quarantine and social distancing communities, are living with high levels of stress now for sometime. For many people, the hardest thing about this pandemic is being physically isolated from family and friends. The members of the AAIMH Board, along with AAIMH State and Territory Branch Management Committees hold you all in mind during these very challenging times. 
Some parents may be wondering how much their infant or toddler is affected by the COVID-19 pandemic, particularly where there are unavoidable changes in routine and may wonder if media information and may be uncertain, in particular about how to support their children and how to talk about the pandemic.
AAIMH has identified a number of resources that you may find helpful in understanding and supporting your child. Some specifically relate to children experiencing the current pandemic whilst others are responses to disasters in general, and are similar to our Resources for Families Affected by Fires. The information will be useful for parents and carers of young children, as well as adults engaged as Allied Health, Early Childhood Educators, Health Service Workers and those working in the Media.

Why Physical Distancing Not Social Distancing
"Social Distancing" or more accurately "Physical Distancing" (you can still be social via phone, email, internet and social websites) means making changes to our everyday lives. To understand Physical Distancing Requirements read "what is physical distancing" from VicHealth. This page provides general information regarding physical distancing that is relevant for all states and territories.
For all latest updates regarding current self-isolation requirements please refer to your state or territory government daily press conferences. For information regarding Australian Government supports for families affected by COVID-19 see Service Australia COVID-19.

How to explain to young children about hand hygiene and changes in routine and COVID-19
The World Health Organisation provided a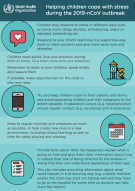 short fact sheet which is downloadable as a PDF.
NCTSN also provide a helpful easy to understand fact sheet about supporting children during the COVID-19 pandemic.
The Georgie and the Giant Germ is a colouring-in book was developed to support caregivers and children in having conversations about the pandemic and to give children a way to express and manage their worries


Birdie and the Virus is a resource created by the Children's Health Queensland Hospital and Health Service, which provides several ways describe COVID-19 to children including YouTube video, Flipbook and Sing-a-Long.


The Red Cross provide information on the specific words that families can use to describe COVID-19 to children. They also provide some creative resources about how to keep young children occupied whilst in isolation.

Comprehensive information relevant to Australian Families, including how to talk to young children regarding COVID-19 can be found on the Raising Children Network. In addition, Emerging Minds have provided resources to support children during the COVID-19 outbreak.
Dr Barbara Stroud from Barbara Stroud Training and Consultation Services, provides informational video for parents to support them in managing the emotional responses and developmental needs of their children during this crisis.
Websites Providing Resources for Families
Beyond Blue is an Australian based website that provides resources and links to the Coronavirus Mental Wellbeing Support Service (1800 512 348) a telephone based support service which members of the public can contact for mental health support during the COVID-19 Pandemic.
Zero to Three, a US based organisation, has created a Tips for Families to assist with a wide range of concerns for families with young children, including for parents "Breathe in Breathe Out".


You may also find the Emerging Minds Community Trauma Toolkit useful. This toolkit contains resources to help and support adults and children before, during, and after a disaster or traumatic event.
It will help you understand some of the impacts of disasters and how you can help lessen these impacts.The information in this Toolkit is grouped into the timeframes surrounding a natural disaster or traumatic event: preparedness; immediate; short-term recovery; and long-term recovery. The resources are tailored to the following audiences which you can select after choosing your timeline: Parents and Caregivers; General Practitioners; Educators; Community Leaders; First Responders, and Members of Health and Social Work forces.

Websites Providing Professional Resources

WAIMH (World Association for Infant Mental Health) has collated COVID-19 resources with a focus specifically on infant mental health professionals and the needs of infants, young children, and their families.
NYC Early Childhood Mental Health Training and Technical Assistance Center has created a vey informative webinar with Joy Osofsky and Gerry Costa "Supporting Families and Caregivers of Infants and Young Children Affected by the COVID-19 Pandemic: A Webinar Provision of Telehealth".
WAIMH has also developed guidance for professionals on how to deliver relationship-based therapies via telehealth.
Prof Kai von Klitzing, University of Leipzig, Presidential Address (April 2020): Infant Mental Health in times of the SARS Corona-2 pandemic.
The Australian Psychological Society has many resources for both practitioners and consumers regarding telehealth services including provision of Telehealth Providers and other FAQs. Many of these resources are specific to psychologists but are relevant to all Health professionals.


IMHJ has also made COVID-19 related articles freely available. In addition, the Special Notice on the COVID-19 Crisis has valuable resources.
Zero to Three provides web-based training for professionals regarding Addressing Child Abuse and Neglect During COVID-19

For community and mental health providers who plan to continue working with affected communities long-term, Skills for Psychological Recovery (SPR) is available on the SPR Online course ( USA).

Reflective Supervision
Health and Social Welfare professionals alongside Volunteers are encouraged to engage in Reflective Supervision together with Self and Other Support during and following Pandemic and all Disaster Recovery Work. The potential and possibility for Stress, Distress, Anxiety and Trauma associated with working in high-risk contexts with risk of contracting COVID-19 environments, alongside Vicarious Traumatisation and its impacts are Key Considerations for workers in all Crises, Pandemics and Disaster Areas and are merited for discussion in Supervision and other supportive and confidential environments. 
Working with distressed infants and parents /caregivers at any time is evocative and demanding. As in all Infant Mental Health work, regular, reliable, safe reflective Infant Mental Health oriented supervision is crucial to the well-being of all parties, i.e. for both workers and the infants, toddlers and families they serve. Please remember to look after yourself when you are tasked with looking after others as we work and live in our current world where uncertainty and heightened arousal states abound.
If required, please contact AAIMH or your State or Territory AAIMH Branch for further information.